FE models are designed with increased safety "Ex e" for use in areas with potential hazard by dust (zone 21 and 22) or gas (Zone 1) in accordance with directive 94/9/EC and 2014/34/EU.
Vibrator motors with approval according to equipment group II 2.
EC type-examination: KEMA 03 ATEX 2233X, IECEx KEM10.0076X
Temperature class: T3 or T4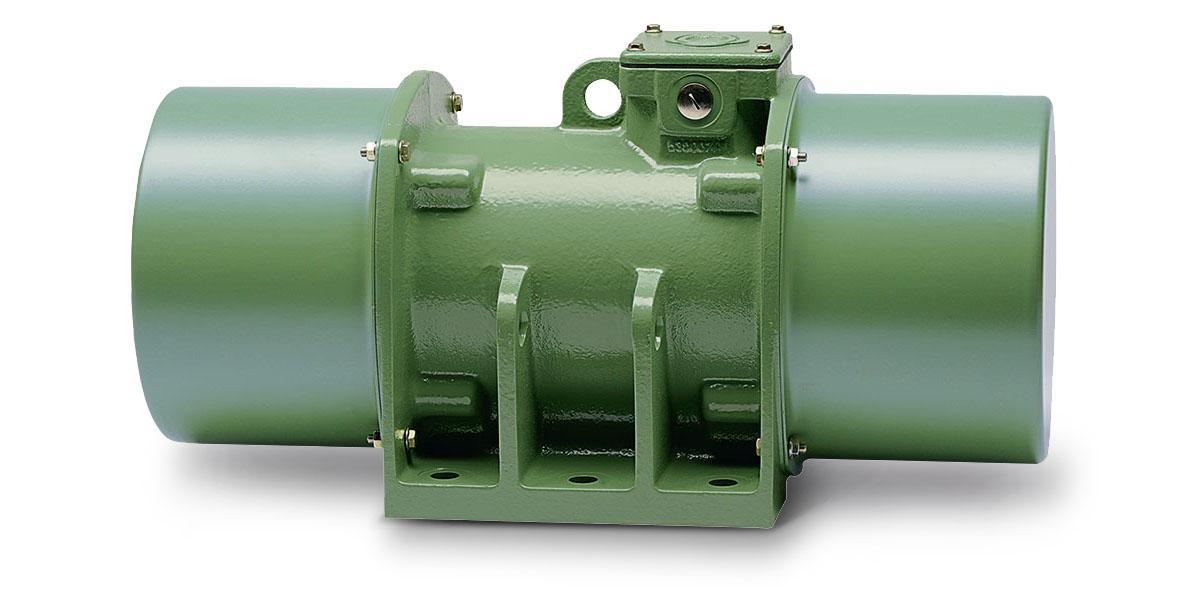 4 pole, 400 V, 50 Hz
TYPE
Temp.

class

RPM [min-1]
Output

power

[kW]

Nominal current [I]

Power factor [COS ∅]

Efficiency

Ia/In

tE [s]
FE 40-4-1.2
T4
1405
0,25
0,7
0,8
1
4
23
FE 75-4-2.2
T4
1425
0,45
1,13
0,8
1
5
17
FE 150-4-2.1
T4
1440
0,7
1,57
0,8
1
7
16
FE 190-4-2.3
T4
1440
0,7
1,57
0,8
1
7
16
FE 300-4-4.0
T4
1450
1,7
3,32
0,9
1
7
10
FE…-4-4.3
T4
1450
1,7
3,32
0,9
1
7
10
FE 340-4-4.1
T3
1450
2,5
4,97
0,9
1
8
16
FE 415-4-4.2
T3
1450
2,5
4,97
0,9
1
8
16
6 pole, 400 V, 50 Hz
| | | | | | | | | |
| --- | --- | --- | --- | --- | --- | --- | --- | --- |
| TYPE | class class | RPM [min-1] | Output power [kW] | Nominal current [I] | Power factor [COS ∅] | Efficiency | Ia/In | tE [s] |
| FE …-6-1.2 | T4 | 935 | 0,2 | 0,8 | 1 | 1 | 3,6 | 24 |
| FE…-6-2.2 | T4 | 940 | 0,3 | 1 | 1 | 1 | 4,2 | 26 |
| FE…-6-2.1 | T4 | 955 | 0,6 | 1,7 | 1 | 1 | 5,4 | 12 |
| FE…-6-2.3 | T4 | 955 | 0,6 | 1,7 | 1 | 1 | 5,3 | 12 |
| FE…-6-3.1 | T4 | 950 | 1,1 | 2,6 | 1 | 1 | 5,3 | 18 |
| FE…-6-3.4 | T4 | 950 | 1,1 | 2,6 | 1 | 1 | 5,3 | 18 |
| FE…-6-4.0 | T4 | 960 | 1,8 | 4,3 | 1 | 1 | 5,8 | 7 |
| FE…-6-4.3 | T4 | 960 | 1,8 | 4,3 | 1 | 1 | 5,8 | 7 |
| FE…-6-4.1 | T4 | 960 | 2,2 | 4,7 | 1 | 1 | 6,6 | 7 |
| FE…-6-4.2 | T4 | 960 | 2,2 | 4,7 | 1 | 1 | 6,6 | 7 |
| FE…-6-7.0 | T4 | 970 | 3 | 6,1 | 1 | 1 | 7,5 | 7 |
| FE…-6-7.1 | T4 | 970 | 3 | 6,1 | 1 | 1 | 7,5 | 7 |
8 pole, 400 V, 50 Hz
| | | | | | | | | |
| --- | --- | --- | --- | --- | --- | --- | --- | --- |
| TYPE | class | RPM [min-1] | Output power [kW] | Nominal current [I] | Power factor [COS ∅] | Efficiency | Ia/In | tE [s] |
| FE…-8-4.0 | T3 | 728 | 1,2 | 5 | 1 | 0,8 | 5,3 | 23 |
| FE…-8-7.0 | T4 | 726 | 2,3 | 6 | 1 | 0,8 | 5,6 | 14 |
| FE…-8-7.1 | T4 | 726 | 2,3 | 6 | 1 | 0,8 | 5,6 | 14 |
Power Supply:
Voltages from 115 V to 690 V at 50 Hz available
Degree of protection:
IP 66
Thermal class:
F (155 °C) according to DIN EN 60034-1
Tropical insulation:
Standard
Thermal overload protection:
As standard PTC 120 °C
Electrical Connection:
Used exclusively on Ex e motors. These rubber hose assemblies are ideal for heavy mechanical stress according to VDE0282 Part 4, such as the type H07RN-F or A07RN-F or higher grade cable. There are 7-wire cable for zones 21 and 22 used as the PTC and can also be connected with this cable. Specifically: 3x phase, 1x Grounding, 2x PTC, 1x unoccupied. Some motors may also be a 4-wire cable for the live conductors and cables for the PTC, which a second cable gland is used. For this purpose, please contact FRIEDRICH Schwingtechnik.
Mounted on the motor terminal box is an ATEX-sealing plug and ATEX Cable gland. Use only certified components for assembly of the cable. The O-ring for sealing must be installed and undamaged.
Permissible Ambient Temperature:
-20 °C to +40 °C
Operating Mode:
Continuous operation (S1) and discontinuous operation at 100 % centrifugal force.
Hoods:
Hoods made from pressed sheet metal or stainless steel comprise the special shape. A silicone seal provides optimum protection against the ingress of dust and water.
Stock:
The built-in special cylindrical roller bearings with increased load capacity and clearance, are lubricated with a special grease for life.
Assembly:
Without limitation, motors can be mounted in any position.
Color Coating:
Standard RAL 6011. Other colors available on request.
Type Code:
The type code is read as follows:
First block number = Working Moment in kgcm,
(working moment = 2 x static moment)
This is followed by a hyphen and then the pole number,
Where: 4 = 1460 rpm 6 = 980 rpm (at 50 Hz mains frequency),
Behind the second dash, the size is specified.